Concentrated Nutrition – 450 litres per tub!
S-Chelate-O Cultiv-8 is a highly concentrated supplementary fertiliser providing 8 essential micro-nutrients in a unique chelated form. Each tub produces 450 litres of solution for application. A little goes a long way!
Better Blooms & Bigger Crops, Organically
The unique formulation designed to produce better blooms and crops in organic systems where the major nutrients (NPK) are supplied via manures and composts etc. Many soils and growing mediums are deficient in the micro-nutrients necessary for the plant to utilise the major nutrients fully. It will, of course, supplement standard NPK fertilisers in non-organic growing systems
Bioavailable
S-Chelate Cultiv-8 is bioavailable in a much broader-than-normal range of pH and soil conditions such as in contact with clay, carbonates, phosphates, organic matter and other elements in the soil that seek to tie up and make secondary elements and micronutrients insoluble.
Ideal for Controlled Growing Systems
This wide pH tolerance of S-Chelate Cultiv-8 is equally useful in controlled growing systems like horticultural drip fertigation polytunnel systems where media like coconut coir can tie up micronutrients like iron and copper and hydroponic systems where tolerance to chemicals like hydrogen peroxide is needed which may be used to prevent pathogens from developing in this highly intensive growing environment.
Bio Friendly – Soil Association Approved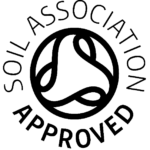 The unique chelation technology used in Cutiv-8 ensures it doesn't accumulate in the soil but is taken up to benefit the plants. Cultic-8 with its non-organic raw materials have been approved by the Soil Association for use in organic farming. Our production facilities in Stoke-on-Trent have been inspected and satisfy the Soil Association standards. Licence AL30377 see certifications in the main menu.